Meet The Team
Balance Gymnastics coaches are exceptionally well-trained. We are all licensed through the National Coaching Certification Program, and strive to continually further our learning and coaching skills with professional development. We surpass the first aid training suggestions and re-certify every two years. We love what we do, and our expertise shines through our coaching in everything our gymnasts learn.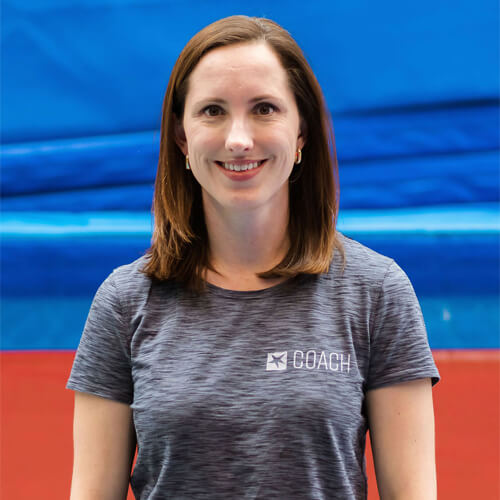 Julia
Owner & Manager
PHILOSOPHY: I believe that gymnastics is one of the most well rounded sporting pursuits, and provides an unparalleled opportunity for gymnasts to learn and develop. I strive to bring development in skills, fitness for life, personal goal setting, team work, mental practice, and overall "balance" together to create an atmosphere where every gymnast can excel and reach personal bests while having a great time in the gym and furthering themselves as individuals.
BACKGROUND: I started Balance Gymnastics in 2009 as my passion project to fill a niche market on the North Shore of providing high level competitive gymnastics training without overdoing the hourly training requirements. I wanted gymnasts to be able to find their own balance in their lives by having the ability to participate in other sports as well, prioritizing schoolwork, and having time with friends and family. I have been involved with gymnastics since I was 13 years old, and carried this interest through a degree in Human Kinetics Exercise Science from UBC. I have two young children and I delight in watching them explore movement with their bodies in and out of the gym. I also enjoy hiking, jogging, and road cycling.
I'm here to answer your questions, please do not hesitate to reach out!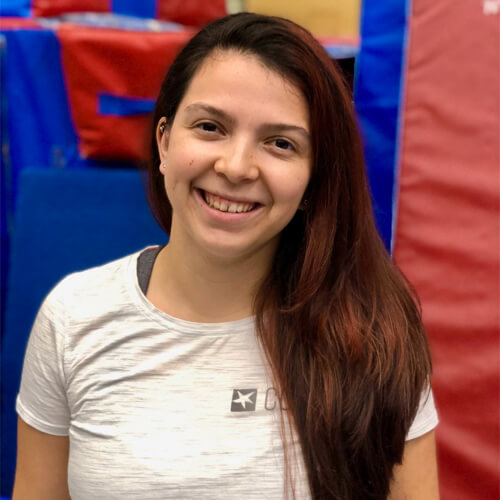 Yareni
Head Coach


PHILOSOPHY: At Balance I know we have a wonderful positive environment where I make sure that every athlete is achieving their goals. My philosophy is to always have open communication with gymnasts and parents, and to encourage gymnasts to never stop being proud of themselves, from the smallest skill accomplishment to working through a mental block. I enjoy teaching at the competitive level where we can break a skill down and build it up into the most successful skill each gymnast can perform. I lead by example - we are here to help and encourage each other from athletes to coaches and coaches in training. We are all here because we love the sport.
BACKGROUND: I trained as a competitive gymnast from the age of 8 to 16 - it was the first sport I joined when I came to Canada and I instantly fell in love. I started coaching gymnastics when I was 16 to special needs students which lead me to attend school for sign language and deaf studies. While coaching students with special needs in the morning I would coach competitive in the evening. I enjoy everything about the competitive side of the sport - it truly is my passion. I continue to do everything in my capability to further myself in the sport as a coach. By doing so I continue to implement long term athlete development plans as it is very important that I help to set up every athlete for success - as a current athlete and as an adult in the future.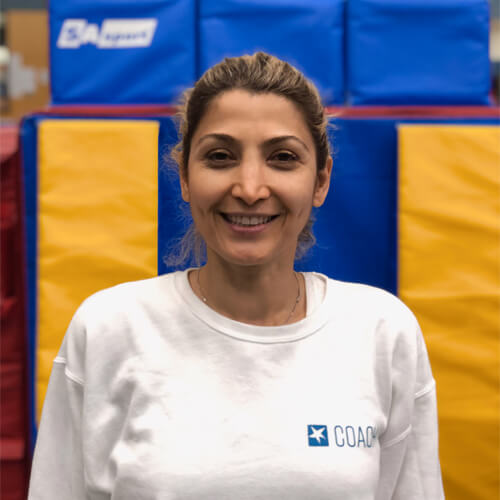 Rozita
Coach
PHILOSOPHY: There is nothing more satisfying than to challenge an athlete to step outside of their comfort zone. With "safety first" in mind, I encourage my athletes to push themselves to realize their maximum potential while being right by their side to share their excitement and fears during their journey as they train for success.
BACKGROUND: I began my athletic career as a competitive gymnast in my hometown of Tehran, Iran. As a passionate gymnast at the age of 10, I was so inspired by one of my coaches that I dreamed of becoming a competitive gymnastics coach. I have been teaching this sport for over 2 decades. I subsequently earned a Bachelor Degree in physical education and sports science, and after graduating from university became a physical education teacher in Dubai for 8 years.
Since arriving in Vancouver in 2004 I have been teaching recreational and competitive gymnastics. I also hold certification by ACE as a personal trainer and sports nutrition which which gives me a valuable set of tools to help my gymnasts in all aspect of fitness.
Most recently, I became certified as a Joga (Yoga for Athletes) coach and use its components to give my gymnasts an edge above their competitors by providing the athletes stability and mobility while combining breathing techniques with body movement to support faster recovery and injury prevention.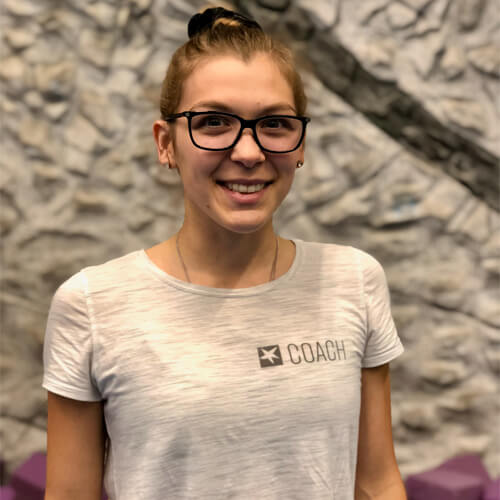 Kayla
Coach
PHILOSOPHY: I want to provide my gymnasts with unconditional compassion, patience and trust to follow their goals. Watching our team push through their fears with the help of our coaches providing the right ingredients is the cherry on top of any amazing club!
BACKGROUND: Growing up in Powell River, I started my first gymnastics class when I was 7 and got into competing when I turned 8. After 10 years of competing at the highest provincial level, I retired and started coaching full time. I am very active and enjoy lots of different sports including rock climbing, biking, and skateboarding! I am a certified level 2 MAG & WAG coach as well as a certified level 2 TRAMP coach. I have spent over 17 years continuously learning and teaching gymnasts what they love!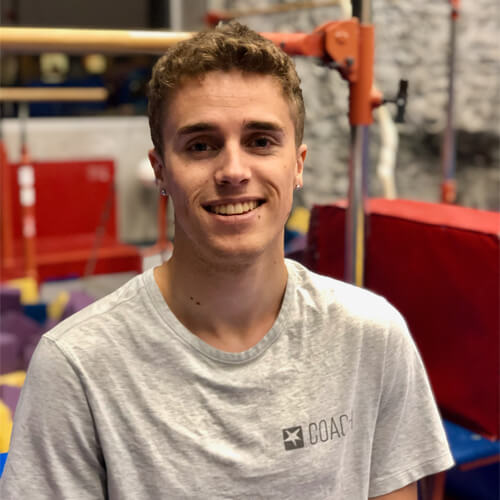 Caelan
Coach
PHILOSOPHY: I believe in a fun, safe, and supportive atmosphere for gymnasts to develop their skills. I want to teach all the athletes I coach how to seriously work towards a goal while still enjoying what they do. I hope that everyone leaves the gym with positive experiences and memories to look back on.
BACKGROUND: I have been heavily involved in sports from a young age, from gymnastics to skiing, cycling to soccer and many others. I have been always been very involved in the community, and began volunteering at age 12. Alongside gymnastics, I have coached ice- skating and refereed soccer. I have been actively coaching gymnastics since early 2014, and really enjoy furthering myself as a coach by continually learning.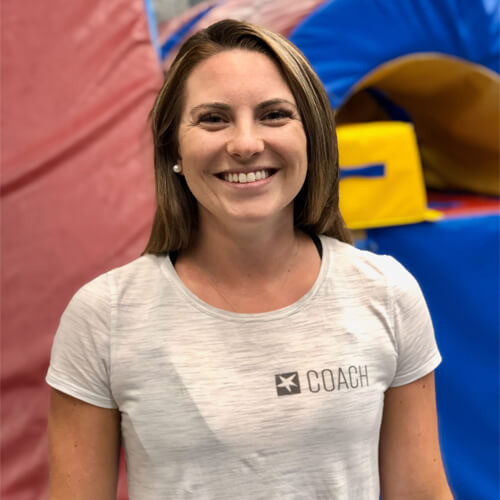 Mel
Coach
PHILOSOPHY: I have always been a big supporter in the idea that kids develop as well- rounded athletes, and people, by being exposed to a variety of activities and sports through their lifetime. At Balance Gymnastics, I am able to support that vision while encouraging our gymnasts to train hard and love the sport. I get to help them to develop over the course of my time with them. One of the most rewarding parts of working with our gymnasts is seeing the way they grow and develop over the years they are part of our program.
BACKGROUND: I have been a gymnastics coach with West Vancouver and then Balance since I was 13 years old. I began with preschool and recreational programs and after about 6 years joined the pre-competitive and competitive coaching staff at Balance Gymnastics. Sports, activity and the human body have always been a large part of my life and I was able to carry that interest through my time at university to have a minor in Kinesiology to partner with my business degree. I am happy to say that as my career outside of gymnastics has changed, I still LOVE the time I spend in the gym and I have a lot fun working with our gymnasts and coaching staff.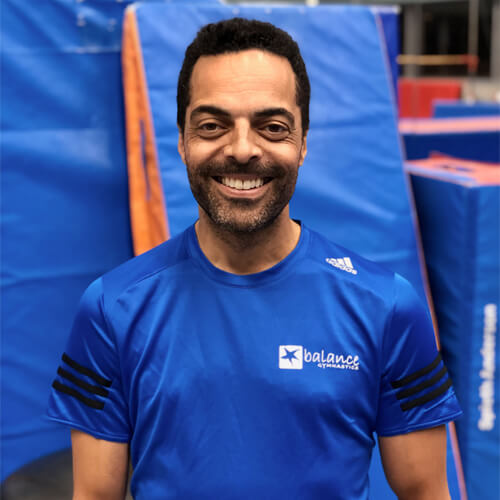 Dave
Coach
PHILOSOPHY: My philosophy is to keep things simple. Every skill and progression will come together at the right time for each athlete. I'm here to support the development of decent human beings through this fabulous sport of gymnastics.
BACKGROUND: I started gymnastics at 10 years old and have been in the gymnastics gym, either training or coaching, ever since. After competing at the National Level I decided to pursue a career in the film industry which led to an opportunity to combine my skills and do stunt work. I have worked on many major films and television shows and worked with some of the biggest stars in the world including Jackie Chan.
I have been coaching since 1 was 15 years old and took my first boys team to Provincial Championships when I was 19. Over the years I have coached many north shore gymnasts including Scott Morgan, a Canadian Olympic Gymnast who won 2 gold medals and a silver medal at the Commonwealth games. I have been coaching with Balance since 2009 and am looking forward to many more great years.
Bottom Content Title
This is an additional section to be able to add content